Tim Jackson - DJ biography
Biography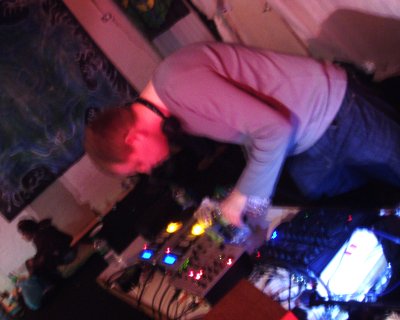 I've been involved with some kind of musical activity for most of my life. Originally trained as a classical musician, I found my tastes rapidly diversifying into almost all genres of music but most particularly dance. From my early teens I developed a taste for commercial dance, but frequent listening to the more credible B side remixes of various CDs gave me a taste for the deeper and less obvious side of things. Alongside this, some keyboard tuition gave me the impetus to start experimenting with dance production. At 14, I was using my limited equipment (a Roland synth and Amiga-based MIDI sequencer) to the best of its ability, writing some early dance tracks.
After my introduction to clubbing proper, things really took off and my interest in dance music surged, becoming a regular at The Republic in Sheffield UK (home of Gatecrasher). About this time, it also became clear that while I enjoyed all styles of dance, my real love was for the trancier side of the scene.
After starting at Cardiff University to study for a degree in Electrical & Electronic Engineering, I immediately got involved with, and soon became a well-known figure at, Xpress FM (now Xpress Radio), the student radio station in Cardiff. After an initial primetime FM broadcast playing a mixture of musical styles, I secured a specialist dance music show in the evenings for the station's Spring 1999 broadcast. By this time, I had developed more underground tastes and was starting to buy vinyl and experiment with mixing.
Continuing the success of my radio show, took things further with the 1999-2000 FM broadcasts on Xpress Radio, giving listeners a mixture of upfront tracks and older music, interviews, live mixes and exclusives with the odd competition thrown in. Recognising this, I was entered for the 2001 Student Radio Awards in the "Best Specialist Show" category.
My main tastes now lie squarely in the progressive/trance region, although that's not to say I don't love a night of funky house too! My record box (both vinyl and digital) is filled with a huge variety of material, but a selection of labels making an appearance are: Euphonic, Anjunabeats, Selective, Lost Language, FourD and Platipus. Some all-time favourite tracks include Marmion's Schoneberg (Man with No Name Mix), Oliver Lieb's storming remix of AMbassador's 'The Fade' and Mea Culpa's 1998 club monster 'Spiritual Light'.
While at Cardiff, I got involved with the popular Offitsface dance music website (now Dancemuzik.com) run by DJ Neil Roberts, both writing 12" reviews and doing site development. I still do some limited work on the site.
Contact details
E-mail: tim@timj.co.uk